Start talking with users about security and pretty quickly you end up on the topic of passwords.
Passwords are probably the security measure that everyone runs into on a daily basis. We have passwords for our IT systems at work, we have passwords for the services we use at home, we have passwords for the devices we use. There are passwords everywhere!
However, the conversation we've had with people all around the public sector hasn't been a happy one when it comes to passwords. When every system needs a different password, the complexity settings for each system are set high, and password changes are enforced frequently, the outcome is not better security. Through research, in collaboration with the Research Institute in the Science of Cyber Security, we've learnt about how trying to make passwords "more secure" means systems end up less secure. When we're overloaded with passwords, we all end up "breaking the rules": we use the same passwords across different systems; we use coping strategies to make passwords more memorable (and thus more easily guessed), and we store passwords insecurely. Jokes about passwords on sticky notes underneath keyboards aren't jokes.
When we overload users with passwords, we also add cost. There's the cost of dealing with increased password resets and account lockouts, and by putting up barriers in the name of security, we reduce the functionality of systems, and make it harder for people to do their jobs.
Worst of all, making all password policies "complex" doesn't stop attacks; see Microsoft's research paper on this subject. Attackers who have stolen a password database - even if hashed and salted - can generally brute force the majority of the passwords in a reasonable length of time, unless the passwords are so long as to be impossible to remember. Attackers who only get a few tries at guessing passwords (such as with a well-designed online service, or enterprise IT network with throttling and lockout) will be stopped by a fairly short password. The vast majority of password policies are in the middle of this - they give us passwords that are far too short to prevent brute force attacks, but that are much more complicated than they need to be to prevent others. The result is that we're asking users to put in more work remembering complicated passwords, for no actual extra security benefit.
Today we've published our new guidance on passwords. Unlike previous guidance, this doesn't focus on trying to get ever more entropy into passwords. Instead we're encouraging system designers and security architects to think more about where they're requiring passwords, and what they're trying to achieve with them. We also recommend simple approaches to improve security, whilst improving the usability of systems.  In a future blog we'll describe how you might implement some of these concepts in different scenarios - such as on End User Devices.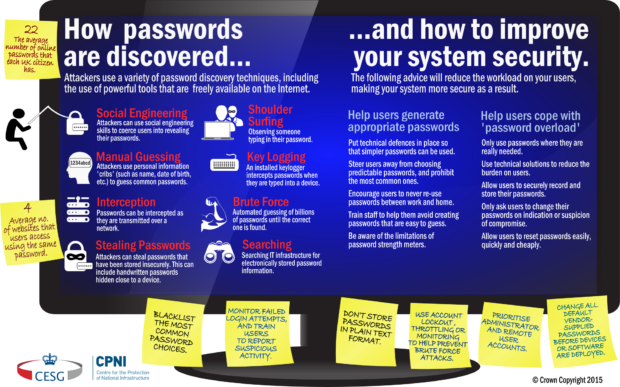 As ever, we're always grateful for feedback on our guidance. Please email enquiries@cesg.gsi.gov.uk or leave a comment on this blog post with your thoughts.